Selling Options for Income
Selling put options for income can return 48% annually (4% per month) for an average investor or trader. Options can be very high risk and basically gambling, but this depends on how they are used. This strategy from YP Investors focuses on Selling options contracts, not buying them. The way options get risky is when they are bought as a trade or investment. An investor should only buy options contracts to protect their portfolio, not as an investment vehicle because it is speculation not investing.
Selling Put Options for Income: The Strategy for 48% ROI Annually
Selling options for income is a simple strategy that you can execute with basic options contracts. Here are the details of our YP Investors Strategy:
The first step is to check if the Market Conditions are Good or Very Good using the YP Member Homepage or Stock Selector page (If you are not a member of YP Investors yet, sign up for a free trial today!). If the conditions show "Selling In Control" (Very Bad or Bad) you should NOT use this strategy.

The next step is to find some Good Technical and Fundamental Stocks. YP Investors has a list of top technically and fundamentally performing stocks on our Top Stocks and Sectors page. This is a great place to get some technically sound stocks. Note: All your stock choices should be Solid Technically performing stocks with 3 or more Positive Technical Attributes including a Positive Trend Line.

Now you should take this list of stocks and use the Point and Figure Chart on YP Investors to see if any are on a buy signal. Hint: you can watch the YP Investors Point and Figure Charting Tutorial to learn about Buy and Sell signals on point and figure charts.

The next step is to Sell a Put contract with a Strike Price at the Buy Signal Price. When Selling a Put contract you will be paid a premium upfront. The premium YP Investors shoots for is ~4% of the total price you will pay if the order gets executed. This premium will depend on the current price of the stock and the contract expiration date. YP Investors sets the contract expiration date for about a month out. This will allow time for the buy signal and stock trend to play out.


Example: Sell a Put Contract on XYZ stock for a $50 premium and the Strike Price of $12.50, with the expiration date about a month out from now. The Buy signal price of XYZ stock is $12.50. If the contract is executed you will have to buy 100 Shares of XYZ at $12.50 (strike price) each so you pay $1,250.00 total, therefore you have to have this amount of money locked up until the contract expires. The ROI is the premium divided by the money you have locked up: $50/$1250 = .04 = 4%. If you get this 4% every month that would be a 48% return per year! Your return could easily be more or less based on the stocks performance and the premium price you agree to.

Remember that you are only guaranteed the premium, if the stock begins to fall in price you can lose money. When the stock price falls below the Strike Price you lose money on the Investment because you own the stock at the strike price (ex, $12.50). If the price is now $11.00, you are down $1.50 per share so $150 for 1 contract. In the example you had a premium of $50, so you are down net $100 per option contract. This is why it is key to invest in good stocks that are trending to higher prices. YP Investors uses stocks with solid technically performing attributes and when they are on a buy signal. This greatly increases the odds that the stock will rise in price. If the stock price finishes above the strike price and your contract is never executed then you get your money held back and you don't have to purchase the stock. From the example, you would get $1,250.00 back plus your $50 in premium already paid to you. Now you can re-invest and repeat the process again and again growing your wealth!

Note on picking the Strike Price: There may not be a contract option for the Strike Price you desire, so this is where you decide how risky you want to be. Picking a Strike Price above the Buy Signal Price is more risky but you will get more premium. Alternatively, picking a Strike Price below the Buy Signal Price will get you less premium but also less risk.
Selling Put Options for Income: Tools You Need to Utilize
When selling put or call options for income it is always important to use the proper tools to make your analysis easier. YP Investors offers a free tool specialized in options called the Stock Options Calculator. This eases the calculations you have to make on figuring out what premium price to accept as premium.
You can simply plug in an ROI percentage and it will automatically calculate the target premium price for you. It also makes selling put options for income less stressful because you can also enter a target stock price for where you think the stock will go in the future. The tool will then display your expected profit and ROI. There's no reason not to use this powerful tool-It's simple, easy to use, and free!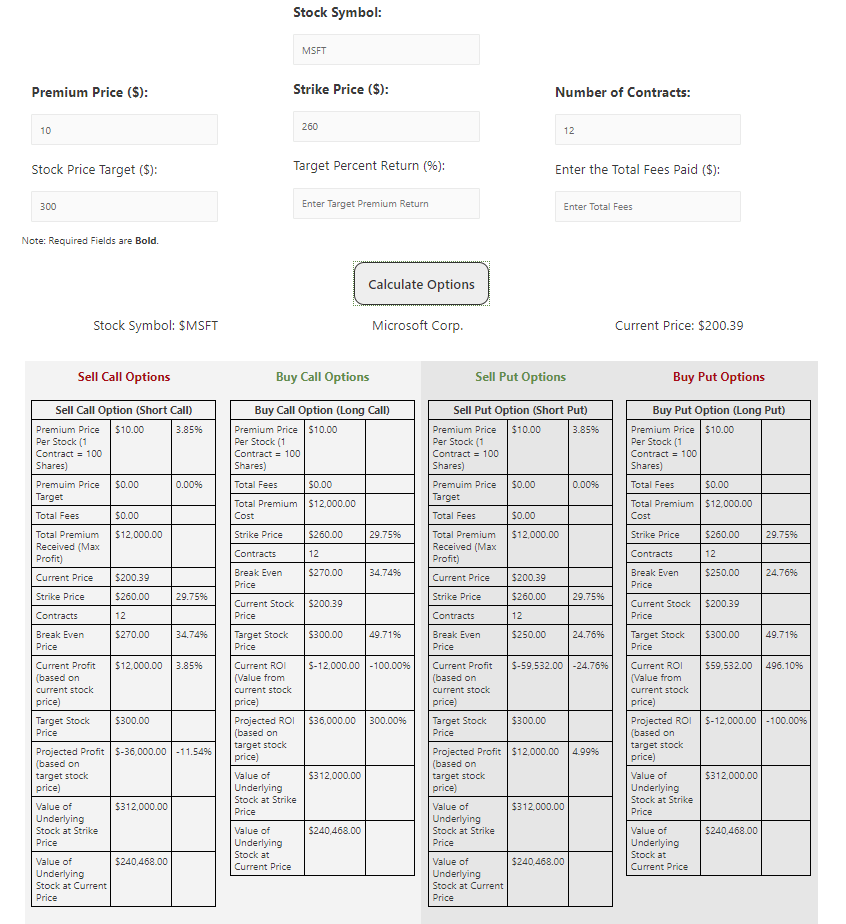 Another great tip when selling put options for income is to utilize the 50-day price average. On YP Investors Stock Selector and Point and Figure Chart tools we display the 50-day average and the +/- 2 Sigma price range. Any stock out of this price range is likely to decrease or increase back into it in the future based off statistical analysis. It should be between the +/-2 Sigma range 96% of the time.
Selling Put Options For Income: Adding Additional Return for the Risky Investor or Trader
There is a bonus or cherry on top to add to this strategy for risky investors and traders. When you Sell the Put Contract you can also Buy a Call contract at the same Strike Price for the same Expiration. If the price of the stock rises significantly then you will make money from the Put Premium and make additional money on the Call.
The downside is you lose big when the stock price falls and does not get back to the strike price of the contracts. You will also hamper your return on the income strategy if you don't break even on the Call Contract itself. You are selecting strong technical stocks that should go up, but the market does what it wants so be aware of the risk.
Selling Put Options for Income: Final Tip
When it comes to selling put options for income, one last thing to remember is that if the Market Conditions change to bad you can always protect yourself and Buy a Put contract for your stock at the next sell signal. This way you will mitigate your losses if the Stock takes a downturn.
YP Investors hopes this strategy will help you successfully grow your wealth so that you can live the life you want! If you are not a member of YP Investors sign up for a free trial. We have the stock analysis tools, alerts, market conditions, and more to grow your wealth successfully. Good luck on your investments!